Remember 3 weeks ago, we had a giveaway of Microsoft Office 2010 Tips and Tricks ebook ?
Today we bring another great ebook for you, which is PC Security Guide. This small ebook worth RM 32 (USD $ 9.95).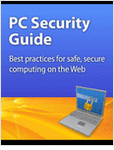 Each of us is now faced with the daunting task of protecting ourselves and our families in the virtual worlds we travel. To make the job a bit easier, the editors of the Windows Secrets Newsletter have compiled some of the best security stories from their archives.
The PC Security Guide is a concise eBook that provides simple and straight forward advice for secure computing. It's designed to give you the fundamental tools you'll need to protect your PC and personal information from most online threats.