Today we would like to introduce you a worth €693 Global Pensions magazine for FREE now. Yes, €693 is about RM 2,760. Don't believe? We show you the proof from the screenshot we snapped :
Global Pensions is the only magazine serving the institutional pensions industry across the globe.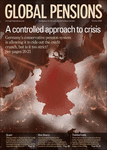 The most important issues for a pension fund are managing risk and maximizing returns. Regardless of where they are located in the world, decision makers at scheme level are trying to achieve this goal. With an ever expanding array of solutions available to them, it is crucial that they understand the choices.

Global Pensions provides an ideal forum for funds from around the world to find the latest news and views of their global peers. The publication is unique in reporting from and to all geographical areas where there is a developed pensions system and thus is a vital partner in educating pension funds in the ways that they can make their portfolios run more efficiently.
With a combination of round table discussions, regular supplements and conferences added to the editorial strength, Global Pensions truly offers a unique forum for discussion for those involved in advising and managing large pension schemes.
Target Audience of Global Pensions
Accountants
Actuaries
Administration managers
Custodians
Financial directors
Human resources directors
Independent trustees
Internationally focused large trustees, consultants and scheme managers
Lawyers
Medium and large trustee scheme managers
Pensions consultants
Pension scheme managers
Pensions
and Students (for researching purpose)
Readers of Global Pensions invest globally and need to know what their peers around the world are doing. The only publication which does this is Global Pensions. By combining a focus on regional pensions news with in depth analyses of innovative and modern investment products, Global Pensions allows the decision makers from these schemes to be influenced and informed about current trends affecting their counterparts all over the world.
To get your FREE RM 2,760 subscription now, please click here or you can visit our FREE Magazine offer on top of our blog.